Advance Practice Nurse Pharmacology Credit – AIDS/HIV One Hour, Current Evidence Based Practice
Purpose/Goals
The purpose of this course is to update healthcare professionals about the most current information along with best practice related to the treatment of HIV/AIDS infected individuals.
Objectives
After completing this course, the learner will be able to:
Identify the civil rights of the HIV/AIDS infected individual and their family/friends
Relate the mechanism of action of HIV as an infectious agent
Describe the pathophysiologic changes in the human body following HIV infection
Describe the modes of transmission of HIV and various strategies to prevent the spread of HIV
Discuss informed consent relating to HIV
Compare and contrast current medications modalities prescribed for the HIV infected individual
Introduction
The infection known as Human Immunodeficiency Virus (HIV) has brought devastation and debilitation to individuals and nations since its world debut in the 1980's. HIV is a fatal infection whose final terminal stage is referred to as Acquired Immunodeficiency Syndrome (AIDS). Individuals, countries and cultures, particularly in central and southern Africa, have suffered tremendously due to the devastation that accompanies HIV, rightly referred to as the "Scourge of Our Time". In the past few years, new treatments have been developed which have extended by decades the lifespan of those infected effectively shifting HIV from an acute terminal illness to a chronic debilitating condition requiring a different perspective on care and monitoring. As healthcare professionals, it is imperative that we keep current on new information regarding HIV as it is continuously being discovered. Information concerning the spread (i.e., modes of transmission), treatment and care of the HIV infected individual, as well as, those individuals who progress into the final stage of AIDS are crucial as we strive to help those infected live healthier more satisfying lives.
The HIV Infected Have Rights
The prospect of having HIV can provoke fear and dread. This anxiety is reasonable given the history surrounding HIV and AIDS both in the United States and globally. HIV infection is a very serious medical condition though not quite the sentence of an agonizing wasting death that it was during the 1980's and 1990's. There are now medications which can slow the progression of the disease, by decades in many cases, giving a new quality of life to those diagnosed rather than the specter of a wasting, suffering death.
The questions remain as to why so many in the United States avoid HIV testing when it is so important to become aware of infection early in order to begin treatment and slow or avoid the fate they see portrayed by the news media visiting impoverished AIDS stricken countries in Africa's west and southern regions. Perhaps it also is the fear of the possibility of a diagnosis of a fatal infectious disease or the fear of living with the responsibility of keeping a demanding disease such as HIV/AIDS under control. Keeping HIV under control is a time and resource consuming task. But then the option of letting the disease run its course unchecked would be a very poor choice to make as well.
Whatever factor(s) that brings hesitation to those needing HIV prevention counseling, screening or treatment, we know that one commonly held fear is that of the stigma attached to having HIV or AIDS. Having HIV brings with it a "scarlet letter" fear of repercussions due to having an unwanted health status. When questioned, many of those newly diagnosed with HIV seem unaware that federal laws exist to protect them from discrimination and ensure that benefits such as social or medical services they would qualify for will not be withheld. As healthcare professionals, it is important to share with those in high-risk groups that key pieces of legislation exist which offer protection from discrimination. Interestingly, some of the mandates and pieces of legislation protecting those with current needs predate the HIV/AIDS epidemic e.g., Section 504 of the Rehabilitation Act of 1973 and pieces of the Americans with Disabilities Act (ADA). These well-established laws mean services which apply to an otherwise qualified individual will also be available to HIV infected individuals.
Title II of the ADA prohibits discrimination by state and local government organizations even those not dependent on federal funding. For those nervous or fearful concerning how those close to them might be treated should they acquire HIV, Title II of the ADA also protects an HIV positive individual's friends and family against discrimination or denial of services that might come from being related to someone with HIV.
Information privacy regarding an individual's HIV status is guaranteed by the 1996 Health Insurance Portability and Accountability Act (HIPAA) whose Privacy Rule is enforced by the Office for Civil Rights (OCR). HIPAA protects the privacy of health information while allowing each individual access to their records so that they can see what is written about them and even ask to make corrections to what is documented.
Awareness of their individual rights and the value that each life inherently possesses are crucial foundational steps leading to the inclusion of those suffering from HIV into society and into better health. By emphasizing the importance of each individuals life we, as healthcare professionals, can increase participation of the HIV infected individual in his/her own care by educating them to:
keep informed of any changes in HIV knowledge and care
use measures to stop the transmission of HIV
avoid high-risk behaviors
have routine screening for HIV infection, if necessary
actively participate in treatment should the individual become infected
Therefore, as we progress to viewing the magnitude of the current HIV pandemic with its slowly widening reach into our culture and homes, remember that what we are really dealing with are the frightened and wounded, each one faced with the sudden overwhelming burden that comes with managing the chronic terminal condition of HIV/AIDS.
The Virus HIV
The Human Immunodeficiency Virus belongs to a viral family known as retroviruses. Some viruses are known as retro, or backward, due to an ability to transcribe, or copy, their genetic code from RNA into the DNA of a host cell as opposed to the more common DNA to RNA method of transcription. Like other viruses, HIV can neither reproduce nor can it grow independently. HIV requires a living host, in this case, a human, in order to make copies of itself, a process known as replication which in the end destroys the host cells commandeered to be a breeding farm. For most viruses, human bodies respond by quickly destroying the invader by means of the immune system. Unfortunately, it is the immune system itself that the HIV infection desires to invade and replicate in leading to a progression where the very source of protection against viruses becomes a cellular killing ground destroying the body's defenses and giving birth to masses of new viral particles.
The favorite prey of HIV viral particles are CD4 T-cells, macrophages and dendritic cells. Once the favored cell has been found, the virus locks onto it and quickly regurgitates its core to the inside of the doomed host allowing viral RNA to begin the process of transcribing into the host cell's DNA using an enzyme called reverse transcriptase. The resulting rewritten DNA integrates into the human genome of the body's cell.  HIV may remain a quiet passenger in the genome of its human host cell for some time or it may immediately exert itself forcing the enslaved human genome into making more copies of viral particles, becoming a mass producer of new viruses ready to continue the spread and conquest throughout more of the infected human body.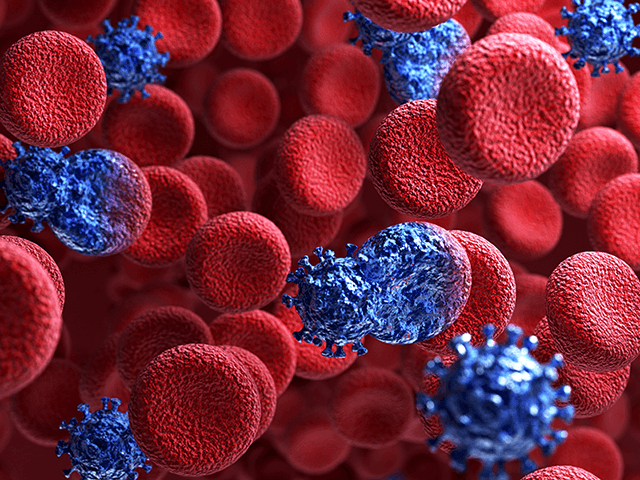 HIV Virus Spreading through System
HIV is a prolific breeder, able to create trillions of copies of itself within a short period of time. During periods of active viral replication, a single milliliter of blood may contain more than 1 million copies of the virus. As is the manner of viruses, a small percentage of these trillions of copies will have minuscule differences from the original thus making them resistant to medications or treatments that would have successfully treated the original virus.
Two significant varieties of the HIV virus have been identified: type 1 (HIV-1) and type 2 (HIV-2). HIV-1 is more virulent and the primary cause of infection worldwide. Generally speaking, when you hear HIV referred to without a clarification as to type, HIV-1 is being discussed. HIV-2 is less easily transmitted and less common appearing mostly in West Africa or in individuals who have had contact with an individual from that region or are themselves from that region. Both types of HIV have AIDS as their end stage and both are transmitted through blood, sexual contact and the virus harboring in body fluids. Current tests are available to detect both HIV-1 and HIV-2. HIV changes and mutates readily so a single infected individual may have several differing strains of HIV inside their body. The future will bring more significant, recognized subtypes of HIV. (Bartlett, J.G., Jan. 23, 2015).
Impact of HIV and AIDS
The CDC estimates that 1,218,400 Americans age 13 years and older are living with HIV infection including 156,300 (12.8%) who are unaware of their infection. In 2013, an estimated 47,352 Americans were diagnosed with HIV infection. Also in 2013, an estimated 26,688 Americans were diagnosed with AIDS. Overall, an estimated 1,194,039 Americans have been diagnosed with AIDS. An estimated 13,712 Americans with an AIDS diagnosis died in 2012 and approximately 658,507 Americans with an AIDS diagnosis have died overall. The deaths of individuals with an AIDS diagnosis can be due to any cause i.e., death may or may not be related to AIDS. (CDC HIV/AIDS Statistics Center, May 11, 2015).
CDC reports indicate that during recent years, the estimated incidence of new HIV infections has stabilized at about 50,000 per year. The fact that the number of new cases discovered annually has stabilized still results in a progressive annual increase in the total number of HIV infections as HIV sufferers are living longer with the advent of new treatments, resulting in an ever-expanding number of active HIV cases both in the United States and worldwide.
Gay, bisexual and other men who have sex with men (MSM)* of all races and ethnicities, particularly young Black/African American MSM, remain the population most profoundly affected by HIV. In 2010, the estimated number of new HIV infections among MSM was 29,800, a significant 12% increase from the 26,700 new infections among MSM in 2008. Although MSM represents about 4% of the male population in the United States, in 2010, MSM accounted for 78% of new HIV infections among males and 63% of all new infections overall. MSM accounted for 54% of all individuals living with HIV infection in 2011, the most recent year these data are available. In 2010, white MSM continued to account for the largest number of new HIV infections (11,200), by transmission category, followed closely by Black MSM (10,600).The estimated number of new HIV infections was greatest among MSM in the youngest age groups. In 2010, the greatest number of new HIV infections (4,800) among MSM occurred in young Black/African American MSM ages 13 – 24. Young Black MSM accounted for 45% of new HIV infections among Black MSM and 55% of new HIV infections among young MSM overall. Since the epidemic began, an estimated 311,087 MSM with an AIDS diagnosis have died, including an estimated 5,380 in 2012.
*For assessing disease risk, the term MSM is often used instead of gay, homosexual or bisexual because it refers to a risk behavior, rather than an identity that may or may not be tied to a behavior. National Center for HIV/AIDS, Viral Hepatitis, STD, and TB Prevention Division of HIV/AIDS Prevention.
Heterosexuals and injection drug users also continue to be affected by HIV. Since the epidemic began, almost 92,613 individuals with AIDS that were infected through heterosexual sex, have died, including an estimated 4,550 in 2012. New HIV infections among women are primarily attributed to heterosexual contact (84% in 2010) or injection drug use (16% in 2010). Women accounted for 20% of estimated new HIV infections in 2010 and 23% of those living with HIV infection in 2011. The 9,500 new infections among women in 2010 reflect a significant 21% decrease from the 12,000 new infections that occurred among this group in 2008. Injection drug users represented 8% of new HIV infections in 2010 and 15% of those living with HIV in 2011. Since the epidemic began, nearly 186,728 individuals with (AIDS) who inject drugs have died, including an estimated 3,514 in 2012.
Blacks/African Americans continue to experience the most severe burden of HIV, compared with other races and ethnicities. Blacks represent approximately 12% of the United States population but accounted for an estimated 44% of new HIV infections in 2010. They also accounted for 41% of individuals living with HIV infection in 2011. Since the epidemic began, an estimated 270,726 Blacks with AIDS have died, including an estimated 6,540 in 2012.
Hispanics/Latinos are also disproportionately affected by HIV. Hispanics/Latinos represented 16% of the population but accounted for 21% of new HIV infections in 2010. Hispanics/Latinos accounted for 20% of individuals living with HIV infection in 2011. Disparities persist in the estimated rate of new HIV infections in Hispanics/Latinos. In 2010, the rate of new HIV infections for Latino males was 2.9 times that for white males and the rate of new infections for Latinas was 4.2 times that for white females. Since the epidemic began, more than 100,888 Hispanics/Latinos with an AIDS diagnosis have died, including 2,155 in 2012.
Transmission and Prevention of HIV Infection
How HIV viral particles enter the bloodstream for an individual to become infected relates directly to prevention of HIV. HIV, once having invaded the body, is tough and resilient and impossible for the infected individuals' body defenses to destroy. Outside the body, however, HIV is fragile and does not survive for long. Misleading rumors about ease of viral spread have led the CDC to provide a list of ways HIV cannot be spread; (CDC HIV/AIDS Prevention, April 29, 2015).
HIV cannot be spread in air or water.
HIV cannot be spread by insects, including bed bugs, ticks or mosquitoes.
HIV cannot be spread through saliva, sweat or tears and no documented case exists of HIV being transmitted by spitting.
HIV cannot be spread by casual contact such as sharing dishes or shaking hands.
HIV cannot be spread by closed mouth or social kissing.
HIV cannot be spread from toilet seats.
HIV Sexual Transmission
HIV infection is most often spread through sexual activities or exposure to infectious blood. Male to male sexual contact, "men who have sex with men" (MSM), when combined with injection drug users (IDUs), account for around half of all new HIV cases in the United States. In contrast, case numbers from developing countries and resource limited areas show almost 80% of new HIV infections arise from vaginal intercourse. (Bartlett, J.G., Jan. 23, 2015).
HIV is found in every population and group, with the highest rate of new HIV infections in MSM. Overall, when viewed by ethnicity the most heavily affected ethnic group is White MSM followed by African American/Black MSM followed Latino MSM.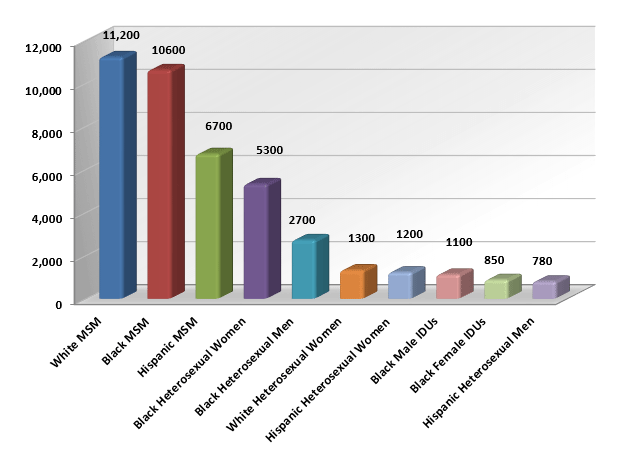 CDC, March 26, 2015. US Subpopulations Estimated New HIV Infections
Transmission of HIV is significantly affected by the type of sexual exposure. Receptive anal intercourse has a much greater risk of viral transmission as compared to receptive vaginal intercourse. The use of condoms does not preclude transmission due to many factors affecting condoms such as holes, tears, improper fitting, etc. However, condom use does lower the chance of transmission as compared to intercourse without protection. The presence of other sexually transmitted diseases, such as the ulcerations of genital herpes, can increase the risk of transmission as much as four times. Circumcision has been shown to decrease the chance of HIV acquisition by the circumcised male, as well as, decreasing the probability of transmitting HIV from the one circumcised to their partner in several randomized trials, although it is important to wait for a new circumcision to fully heal before engaging in intercourse. (Johns Hopkins Medicine, April 2015).
HIV Blood Transmission
Transmission of HIV particles into blood can occur through such things as needle exchange, blood sharing rituals or unsterilized equipment exposed to blood. Injection drug users (IDUs) constitute a growing population of new HIV cases. Cosmetic instrumentation exposed to blood and body fluids may be as great or greater a risk than improperly sanitized medical instrumentation due to the lack of awareness held by some practitioners of the tenacity held by HIV, hepatitis and other pathogens. Body piercing, tattooing and even manicure/pedicure tools must all be rigorously and methodically cleaned and disinfected between clients to avoid the spread of life-threatening disease.
Pre-exposure prophylaxis (PrEP) is a method for those at substantial risk for acquiring HIV to increase their chances of preventing the infection. PrEP consists of two oral medications, tenofovir and emtricitabine, taken in combination to prevent HIV from establishing a permanent infection when exposed during sexual activity or injection drug use in a high-risk situation. PrEP, when taken consistently beforehand, has demonstrated a 92% decrease in resultant HIV infection (CDC PrEP, June 25, 2015).
Post-exposure prophylaxis (PEP), must be started within 72 hours of exposure to HIV and be taken for 28 days, followed by an HIV screening test at 1 month, 3 months and six months post-PEP.
HIV Nucleic Acid (RNA) Tests
Nucleic acid tests detect the genetic material of the HIV virus, ribonucleic acid (RNA). These tests are capable of identifying the presence of HIV in an individual's blood as soon as ten days after they become infected. Only licensed laboratories are approved to perform this test. A blood plasma specimen is required for this test.
HIV Screening
Almost one in five HIV infected individuals in the United States are unaware of their infection and the possibility that they are infecting others. Screening recommendations from the United States Preventive Services Task Force (USPSTF) strongly encourage healthcare professionals to routinely screen all adolescents and adults ages 15 – 65 for HIV infection, as well as, those younger or older who are considered at increased risk. The American College of Physicians (ACP) further recommends routine HIV screening out to age 75 and the CDC guidelines suggest screenings to begin at age 13. The consensus among these organizations persists that healthcare professionals need to be much more assertive conducting HIV screenings. (Bartlett, J.G., Aug. 28, 2014).
Recommended intervals between routine HIV screenings vary as to risk levels and circumstances, with those showing positive for HIV needing placement into treatment rather than further follow-up screenings. Individuals actively engaged in risky behaviors (e.g., men having sex with men, injection drug users, having sexually high-risk behaviors, etc.) or living in a high presence setting (e.g., homeless shelters, tuberculosis clinics, correctional facilities, etc.) should receive annual or more frequent screenings. For those with lesser degrees of risk, the amount of time between screenings should be set according to circumstances and clinician judgment, with a suggestion of around every three to five years. The USPSTF acknowledges that routine HIV screening may not be necessary for individuals with a negative HIV initial screening who demonstrate the lack of an increased risk of exposure, although all newly pregnant women should be screened as early as possible in their pregnancy with a repeat screening around the third trimester. (USPSTF Final Recommendation Statement, April 2013), (Bartlett, J.G., Aug. 28, 2014).
Three Stages of HIV Infection
HIV infection has three stages as defined by the CDC: HIV Primary or Acute infection, HIV Chronic or Asymptomatic infection and HIV as AIDS.
HIV Primary or Acute Infection
The earliest stage of HIV infection is known as the primary or acute stage. Acute HIV infection generally develops around two to four weeks after an individual has been infected by sufficient amounts of the virus. Many newly infected individuals report having flu-like symptoms such as generalized aches, headache, fever and perhaps even a rash. During this stage, the virus begins taking possession of CD4 Helper T cells destroying them in the process of multiplying itself.
Seroconversion denotes the time period from initial infection to when the body begins to create antibodies in sufficient amounts to fight the HIV infection and these antibodies can be detected by HIV antibody testing. This brief, though variable, time period is also referred to as the "window period" of acute HIV infection. During this period an individual may have the infection, yet still not register as positive on current screening tests. Unfortunately, viral levels are generally high enough during this window period that newly infected individuals are themselves able to infect others and can easily transmit HIV by sexual acts, sharing drug paraphernalia and other modes of transmission specific to HIV. The length of this dangerous window period can be as little as 2 weeks or up to 6 months, making lifestyle screening an important tool during HIV pre-test counseling sessions. (AIDSinfo, June 8, 2015).
Acute Retroviral Syndrome – Seroconversion Syndrome (Cichocki, M., June 19, 2014)
Seroconversion is often accompanied by a series of symptoms referred to as seroconversion illness, although the more technical term is Acute Retroviral Syndrome.
Symptomatic seroconversion has a flu-like presentation with fever and swollen glands in the neck, axillae and/or groin. A rash, fatigue and sore throat are often present, as well as, less common symptoms such as headache, diarrhea, stomach ache or ulcerations of the esophagus.
Abnormalities in laboratory values during seroconversion include increased levels of inflammatory cytokines (indicating immune activation) and a short-term decrease in lymphocytes (white blood cells), followed by an increase in CD8+ cells and overall lymphocyte counts.
Seroconversion symptoms are non-specific. However, when viewed as a syndrome or pattern of symptoms, they may serve to prompt the right type of diagnostic interview questions. These questions can identify up to 30 – 50% of newly infected individuals during seroconversion so that early treatment options can be instituted even before direct HIV testing can be employed.
Due to the window period and the initial high viral quantities in the bloodstream, it is generally considered that the acute stage of HIV infection holds the greatest risk of disease transmission to others, although HIV can be transmitted during any of its stages.
Our bodies are masterpieces of engineering and design which, when given a chance, show incredible tenacity. This is demonstrated even during the massive invasion of new viral particles permeating the acute HIV infection stage as our immune response rallies and fights to bring the amount of virus down to a stable level. It is common toward the end of the acute stage for the infected individual to reproduce some of the CD4 T helper cells lost earlier, though CD4 counts rarely return to the levels they had pre-infection.
HIV Chronic or Asymptomatic Infection
Following the initial flu-like symptoms and the rapid surge of viral levels in the acute stage of HIV infection, comes a chronic or latency period during which infected individuals often feel and look healthy. The length of this asymptomatic stage differs from individual to individual and may linger as long as ten years. During this chronic stage, HIV is still active, although its replication levels are much slower than the enormous reproduction surge of the acute stage. Individuals who are infected and have started on antiretroviral therapy (ART) may be able to extend the symptom free HIV period for up to several decades.
Individuals in the chronic HIV stage are still able to infect others. While the chronically infected individual may not themselves feel sick, any risky lifestyle habits such as those that brought them initially into contact with HIV must be addressed in order to limit the continued spread of this deadly infection. HIV carriers know they are infected. Lifestyle changes are important, and the initiation of antiviral medication can reduce the chance of transmitting the infection by as much as 90%. (NIH News., May 12, 2011).
The chronic latency period of HIV infection will draw to a close, with or without supporting medications such as ART. The beginning of the end of the latency period is signaled by a progressive rise in viral levels, often referred to as the viral load, and a drop in the CD4 cell count. This combination of events allows symptomatic illness indicators of the HIV infection to once more surface as the beleaguered immune system grows too weak to counteract and control symptoms.
HIV as AIDS the Final Stage of Infection
Acquired Immunodeficiency Syndrome (AIDS) is the final stage of HIV infection. AIDS occurs when the body's immune system has been badly damaged making the individual vulnerable to diseases, infections and even infection related cancers. The general terms used for these entities are opportunistic illnesses or opportunistic infections as their presence occurs due to the absence of immune system defenses, allowing these opportunists to take advantage of the opening created by the HIV infection to spread without challenge or check.
An AIDS diagnosis can only be made by a licensed healthcare provider based on the results of HIV specific blood tests and/or the ill individual's physical condition. Once diagnosed with AIDS, the current diagnostic protocols do not recognize backward travel through the HIV diagnostic criteria, even when symptoms are in remission and the individual feels better. Therefore, it is diagnostically true that once identified as having AIDS the diagnosis will always be with that individual.
Some individuals with AIDS may appear healthy to the casual observer, however, they continue to be infectious and extremely vulnerable to opportunistic diseases, particularly when not receiving adequate supportive treatments. When untreated, the average lifespan from initial HIV infection to death in the United States is currently just over three years. Current medication therapies and lifestyle changes have been able to lengthen the lifespan by decades.
200 CD4 cells per cubic millimeter of blood, 200 cells/mm3, is the line below which AIDS is officially diagnosed, although the presence of one or more diagnostically recognized opportunistic illnesses is also considered adequate for the finding of the diagnosis of AIDS regardless of the CD4 count.
Visible symptoms that the HIV stage of AIDS has been reached include: (AIDS.GOV HIV/AIDS Basics, April 29, 2014).
Persistent low-grade fever
Extreme and unexplained fatigue
Difficulty recovering from colds or flu
Recurring fever or profuse night sweating
Diarrhea lasting more than one week
Rapid weight loss
Sores of the mouth, anus or genitals
Memory loss, depression or other neurologic disorders
Respiratory difficulties including pneumonia
Without treatment, the life expectancy of an individual diagnosed with AIDS is typically three years. The concurrent presence of a dangerous opportunistic illness lowers the life expectancy of an untreated AIDS individual to one year or less.
Even with treatment, opportunistic infections will occur once AIDS is reached. Typically, antibiotic prophylaxis is prescribed to help the severely impaired immune system fight off infections.
Diagnostic Tests for HIV
Basically, there are three types of diagnostic tests for HIV: antibody tests, antigen (Ag)/antibody(Ab) tests and nucleic acid (RNA) tests. Antibody tests detect antibodies which are proteins that the body makes to fight against HIV, not HIV directly. Antigen/antibody tests and RNA tests detect HIV directly.
HIV Antibody Tests
Antibody screening tests (immunoassays) are currently the most commonly used HIV tests. These are available as both laboratory and rapid testing versions using either blood or oral fluids. Antibodies are produced by the immune system in response to an infection and antibody screening tests performed on blood have the ability to detect the presence of HIV earlier in the infection process due to the available levels of antibody in the blood. Antibody screening immunoassays (IA) conducted at the point of care are capable of providing preliminary results in about 20 minutes.
Antibody screening immunoassays have been designed to detect HIV-1 and/or HIV-2 antibodies in blood, oral fluid and even urine specimens. Reactive/positive screening test results are always to be considered preliminary pending a confirmation test. When using a rapid screening tool the confirmation test will be a laboratory follow-up test. (CDC HIV Testing, June 27, 2014).
Blood-based HIV screening:

Finger stick testing detects antibodies
Can be a rapid result test or a send to laboratory version
Most often used in medical offices, public health clinics and community outreach centers.

Oral fluid HIV screening:

Oral fluid containing antibodies in the oral mucosal transudate is gathered by swab from around the gums of the mouth.
Rapid test kits are available or the swab can be placed in a special collection container for shipment to a licensed processing center.
Public health clinics and community outreach agencies are the primary users of this method.

Urine HIV screening:

Urine rapid test kits or collection devices are available to be sent to licensed processing centers but are not yet widely used.
HIV Antigen/Antibody Tests
Combination antigen(Ag)/antibody(Ab) immunoassays are in their fourth generation for HIV detection and are capable of detecting antibodies against HIV and fragments of the virus itself called antigens.  Ag/Ab tests require blood samples (serum, plasma or whole blood) and have the potential to detect a specific protein, known as p24 viral core protein, as soon as, three weeks after initial infection. The p24 particles, however, soon become undetectable once the body speeds up its antibody production and begins to "destroy the evidence" in its fight against HIV. At this point, the second part of the Ag/Ab test becomes valuable, as the antibody's hiding the antigen evidence become reactive to the test allowing accurate detection efforts to continue.
HIV Testing Informed Consent
The CDC has formulated specific recommendations balancing the rights of individuals with the need of the public regarding infectious disease. As of 2015, all states but Nebraska have enacted laws that are consistent with the following CDC recommendations:
Consent:
A separate written consent for HIV testing is not recommended.
A general informed consent for medical care which notifies an individual that an HIV test will be performed unless specifically declined (opt-out screening) should be sufficient to encompass informed consent for HIV testing.
Prevention Counseling:
Prevention counseling should not be required with HIV diagnostic testing or as part of HIV screening programs in healthcare settings.
For specific information about each state's laws regarding HIV testing informed consent and prevention counseling rules click this link to go to the CDC state HIV law information page.
Confidential HIV testing means that results go into the individual's medical file and may be shared with other healthcare providers and insurance companies according to HIPAA regulations. Some states offer anonymous HIV testing where a unique identifier is attached to the results allowing only the individual to access the results.
Tests positive for HIV or other sexually transmitted infections (STI's) will be reported to local or state health departments. This allows state tracking of new instances for the purpose of planning public health response. State health departments take the compiled information and forward them to the CDC after stripping all personal information from them.
Anonymous testing may delay or prevent a timely initiation of treatment and may lead to some individuals failing to receive care. Thus, anonymous testing is not the ideal option. Healthcare professionals should take the time to review whether anonymous HIV testing is in the best interest of the individual and even if it is an alternative in the area of practice.
HIV Test Results
The presence of a negative HIV result indicates one of two things:
No HIV infection is present or
The individual has been recently infected and has not yet produced enough antibodies to be detected by the test.
If the individual's interview reveals a recent episode of high-risk behavior, it is recommended that a follow-up HIV test is performed three weeks to three months from the date of initial testing so as to work around the "window" effect that occurs during acute infection. Risk is particularly high if unprotected sex or needle sharing behaviors have occurred. It is imperative that the individual is warned that a negative HIV test result does not mean an individual is immune to HIV. Should risky behavior continue, HIV infection is likely to occur.
Positive HIV Results
Positive confirmatory test results indicate the presence of HIV antibodies or HIV RNA:
The individual has an HIV infection.
This individual is infected with HIV for life.
This individual can spread the HIV virus to others through behaviors such as unsafe sex, sharing contaminated injection devices and other high-risk behaviors.
Immediate assistance to obtain HIV treatment and medical care should be initiated so that the best possible outcome can be obtained.
Indeterminate HIV Results
Infrequently, an HIV test will return as inconclusive or indeterminate. Recent high-risk behaviors leading to the individual's infection with HIV may indicate that they are still in the process of developing antibodies or "seroconverting". Whenever seroconversion is suspected, RNA testing should be performed to determine whether or not the virus is present. If RNA testing is not available, a second HIV test using different antibody detection from the first indeterminate test should be performed. If the second test gives a positive result, HIV is present.
An indeterminate HIV test result does not automatically mean seroconversion is present as there is a potential for test cross reaction with other proteins from sources such as an autoimmune disease, recent influenza vaccination or even pregnancy.
HIV Viral Load Testing
Laboratory testing is ongoing once a positive HIV test result occurs as it is important to know both CD4 counts and viral loads when dealing with HIV infections. Viral load refers to the quantity of HIV viral particles present in an individual's blood stream. When the viral load is high, more HIV is present indicating the immune system is not functioning well. Low viral loads reduce complications from the HIV infection and translate into an extended lifespan. Good laboratory results show a high CD4 count and low or absent viral load counts.
HIV Treatment
Currently, there is no cure for HIV infection. An individual's lifespan can be extended and quality of life enhanced yet every individual diagnosed with HIV infection will die from it, as long as, another life ending event does not take them first. Consequently, prevention is the key, the goal and focus of early intervention. Once an HIV diagnosis does occur, early and aggressive therapy can add decades of life and enhance the quality of life.
A complete medical history, physical examination and general laboratory assay should be initiated as soon as possible after initial diagnosis. The results of these provide the foundational framework on which future results can be compared, as well as, serving to preclude or discover current comorbid disease processes also requiring treatment.
The current best practice for HIV treatment is early and continuing antiretroviral therapy (ART) for all HIV infected individuals, especially infected pregnant women so as to reduce the risk of transmission to the fetus. Antiretroviral medications do not kill the HIV virus nor can they cure the disease. ART's slow or prevent the growth and spread of the virus. (Panel on Antiretroviral Guidelines for Adults and Adolescents, May 1, 2014).
There are several antiretroviral agents in use since the HIV virus has shown itself proficient at forming resistance to single agent therapy. Highly active antiretroviral therapy (HAART) combines three or more antiretroviral agents which are given to prevent treatment resistance from forming within the infected individual.
Each class of antiretroviral medications works by different mechanisms to combat HIV.
Nucleoside reverse transcriptase inhibitors (NRTIs) or "nukes" block HIV genetic material from creating altered DNA from viral RNA.
Non-nucleoside reverse transcriptase inhibitors (NNRTIs) or "non-nukes" also block the altered DNA creation from viral RNA, though in a different fashion from the NRTIs.
Protease inhibitors (PIs) interfere with the process of newly formed HIV virus using the enzyme protease to gather components it needs to mature into full function.
Entry inhibitors or fusion inhibitors work to prevent the mature HIV virus from entering a host cell by making the cellular attachment process, where the virus locks onto the outside of a cell, more difficult.
HIV integrase inhibitors act to prevent the DNA from the virus being inserted into the chromosome of the host cell by interfering with the HIV integrase enzyme, the tool the virus uses to unzip and then patch in its own genetics into the host cell.
HIV Medication Combination Therapies
CDC guidelines recommend initiating prompt treatment following diagnosis with combination antiretroviral medications (ART's). Each individual should have these medications personalized based on drug resistance testing, epidemiologic determination of susceptibilities of the local prevalent viral strains, comorbid conditions, possible drug to drug interactions and anticipated adverse effect profiles. The CDC provides recommendations for a general starting combination therapy. (Panel on Antiretroviral Guidelines for Adults and Adolescents, May 1, 2014).
In an antiretroviral naive individual, general guidelines suggest that the starting regimen should consist of two nucleoside/nucleotide reverse transcriptase agents (NRTIs), plus a third active agent from one of the following therapeutic classes:
Integrase strand transfer inhibitor (INSTI),
Nonnucleoside reverse transcriptase inhibitor (NNRTI), or
Enhanced protease inhibitor (PI boosted with ritonavir [RTV])
From the NRTI category, the CDC currently prefers either the abacavir/lamivudine (ABC/3TC) combination, or the tenofovir/emtricitabine (TDF/FTC) duo. The CDC recommendations on combination therapies for individuals who have previously been on antiretroviral medications or who have comorbid conditions requiring an increased need for individualization tend to change frequently as better information is gained regarding optimal response to treatment. The most current recommendations can be accessed from http://aidsinfo.nih.gov.guidlines.
Case Study
Marissa, 28, comes to you after a public health worker contacted her as a reported contact of a newly diagnosed HIV client. Marissa is especially concerned because she recently found out she was pregnant and plans to carry her baby to term.
Confirmation tests indicate Marissa is indeed pregnant and, unfortunately, has also contracted the HIV virus.
The National Institute of Health (NIH) and the CDC both recommend HIV testing for all pregnant women. Some regions automatically include HIV testing as part of routine pre-natal care, while others separate it as an opt-in additional test. The CDC recommends and requests that HIV tests be routine for all pregnant women.
Marissa was provided information about the means of protecting her unborn child, herself and potential contacts from the dangers of HIV infection. Nonjudgmental information that the unborn baby would be at heightened risk for mother-to-child transmission of HIV during pregnancy, labor and delivery, and afterwards by breastfeeding was provided.  Marissa was assured that with proper medication and treatment less than two babies in 100 with HIV positive mothers get the infection before or during birth.
Antiretroviral medications are strongly recommended:
Throughout the pregnancy – combinations of at least three different ART medications are generally used based on unwanted effect profiles.
During labor and delivery – additional intravenous AZT is recommended for the mother during labor and through the delivery process in addition to the oral ARTs.
After birth – liquid AZT is given to the newborn as a six week preventative. Babies whose mothers were not on a pre-birth ART regimen may receive additional anti-HIV medications as well.
After delivery – the new mothers ART regimen will probably be amended to include medications whose adverse effects prevented their use during the pregnancy.
Marissa was informed that she would also be at risk for progression of the HIV infection if medications are not started now to slow the infective processes. Potential sexual partners will also be at risk for infection unless deliberate steps to prevent the spread of HIV are implemented in a thoughtful methodical manner.
A cesarean delivery (C-section) may be preferred to regular vaginal delivery as a means of minimizing exposure of the newborn to infected blood and delivery fluids particularly when the viral load is less than 1000 copies/ml at the pre-delivery check or the mother has not been taking antiretroviral medications. The preferred time for the C-section is around 38 weeks gestation about two weeks prior to the normal due date.
Marissa was reassured that ongoing monitoring of her newborn would occur at two weeks, two months, and six months in order to make sure the baby remains HIV free.
Should the newborn have a positive HIV virologic test result a combination of HIV medications with the addition of Bactrim to inhibit pneumonia will be started (AIDSinfo Factsheet, Feb. 2012).
Summary
HIV infection is a chronic medical condition that those infected will have until an infected individual succumbs to it in its final stage of AIDS or death ensues from another cause. There is no cure for HIV infection which means that prevention is key to control its spread. Distributing knowledge of HIV along with information concerning an infected individual's rights and the value that their lives hold form key parts for positively affecting individuals/groups whose behaviors place them at a heightened risk for exposure and infection. It is important to share information concerning the transmission of HIV along with the risks of unprotected sex, sharing of needles and exposure to unsanitized blood contaminated devices as methods by which the HIV retrovirus can be transmitted to still another victim.
It is estimated that approximately one in five of HIV infected individuals are unaware of their infection and unable to begin life extending treatment. HIV testing is available both from healthcare professionals and by means of home tests. Once a positive test is confirmed, early aggressive treatment with antiretroviral medications is highly encouraged. The state of HIV medications allows those infected to live decades longer than they otherwise would without medication, and with a greater quality of life, though the medication regimen can be taxing. Support for adherence to the medication regimen and behavioral changes that minimize the chance of spread of the virus by those infected are important objectives for healthcare professionals as they work toward helping the HIV infected live healthier more satisfying lives.